ETOnline.com: It's another installment of Carpool Karaoke – and this time Iggy Azalea joined in on the fun!
The newly engaged "Fancy" singer joined James Corden for the popular Late Late Show segment to sing along to her most popular tunes, as well as get some wedding planning out of the way.
Primarily known for her rapping, Iggy even got to show off her singing voice, crooning along to "Trouble," her song with Jennifer Hudson, and "Pretty Girls," her track with Britney Spears. Iggy and James also head bopped to "Fancy" and "Black Widow" because you just have to.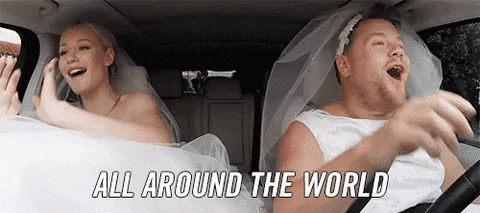 Small talk quickly turned to Iggy's upcoming nuptials to Los Angeles Lakers player Nick Young and we learned a ton!
Like how Iggy's good friend Demi Lovato, who witnessed Nick's proposal, will be one of her four bridesmaids. Or that if James gets ordained in time, he could even officiate the wedding. (Please please please make this happen!)
Or that Iggy is a "let them rest" girl when it comes to her boobs and her wedding dress. Or that Nick really desperately wants R. Kelly to sing at their wedding.
After making an impromptu stop at a local L.A. wedding dress shop, Iggy (and James, for that matter) may have found the dress. And, is it just us or does the Late Late Show host look pretty darn good in a wedding dress?
We've added few new stills from the appearance to our gallery, be sure to check them out!